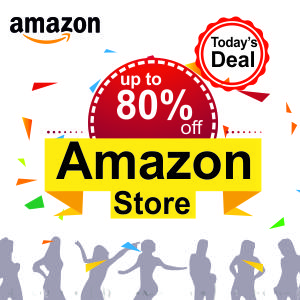 Now and then, we celebrate festive seasons thanks to Amazon, which is always all set to start its sale. Buyers can grab the best possible on various products. Here you can get the best discounts, bargains, lightning deals, and other offers.
With so many offers and discounts, it might seem a little confusing and overwhelming. Here, we provide some advice that will make it easier for you to browse and improve your chances of getting the best possible discount during the Amazon Sale.
Get Amazon Prime Membership.
If you don't have Amazon Prime Membership, then get it. It offers free shipping, lower prices, and early access to some products. Choose the monthly subscription option, which starts at Rs 179, if you don't intend to be a Prime member for long.
​Get the cash rolling in Amazon Pay.
Perhaps the quickest method of payment on the e-commerce site is Amazon Pay. It's easy to load balance into it, and doing so can help you save time and avoid the OTP problem.
​Plan in advance and make your list.
Get ready with your products. It will save you time, and you can escape from searching for unnecessary products. Making a plan in advance also aids in preventing any impulsive purchases that could be made during the sale.
​Use the Amazon notifications feature.
Personalized notifications are a feature of the Amazon app. You can access the app's settings and click on Notifications to receive notifications about products that are on sale you may be interested in purchasing or those you have already explored.
​Look for Amazon-branded products.
Sometimes a company you may not be familiar with will offer you a "crazy" sale price. In this case, see whether Amazon has a comparable product because it's likely to be deeply priced and might have a stronger brand promise.
​Alexa can be your good friend during the sale.
You can always ask Alexa to notify you when something is added to your Wishlist or placed in your cart. A feature in Alexa allows it to alert you before a particular deal becomes available during the sale.
Save multiple payment options.
If you possess a credit or debit card from a specific bank, you will always be able to purchase specific items. Having your payment alternatives saved in advance is usually a smart decision because it will help you save time and perhaps even some more money.
​Don't wait till the last minute.
Don't wait until the last minute for sale to add your items to the cart. Instead, just put your cart ready before the sale gets starts. Even though you might not be able to see the discounted rates right now, it will only display the best price when you check out.
​Amazon Assistant for the desktop.
If you plan to buy your items from a laptop/PC, you can download Amazon Assistant, which will keep sending regular notifications on special offers and discounts regularly.
​Look for "Grand Opening Deals."
Without providing any information, Amazon offers a section titled Grand Opening Deals. Watch out for these because they will only last a short time, and there may be good savings on recently released products.
Check out every six hours for "crazy offers."
Amazon also offers some "crazy offers" every six hours on sale, according to the website made for the Great Indian Festival, so there may be some alluring discounts available.