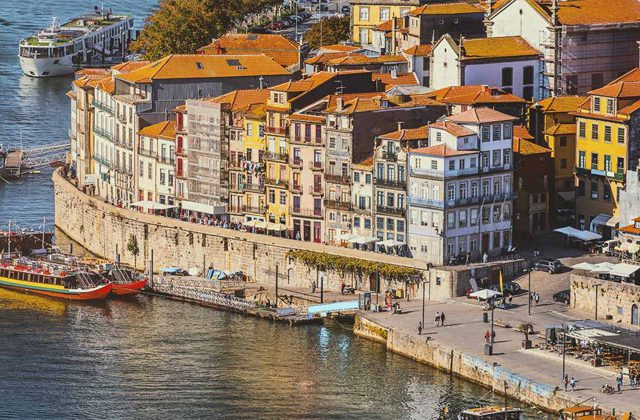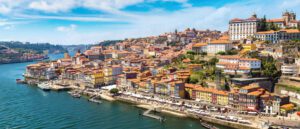 Porto, the second-largest city in Portugal, is a vibrant destination that promises a city break full of excitement. With its rich history, charming architecture, delicious cuisine, and world-famous port wine, Porto offers many attractions and experiences to delight every traveler. Whether you're a history buff, a food lover, or an adventure seeker, this enchanting city has something for everyone. In this eSky guide, we'll explore the top five attractions, recommend accommodation options, highlight must-try dishes, and provide additional tips for an unforgettable trip.
Top 5 Attractions in Porto:
Ribeira District:

Begin your adventure in the heart of Porto at the Ribeira District. Lose yourself in its narrow winding streets with colorful houses, bustling cafes, and lively squares. Enjoy a stroll along the riverside promenade, soak up the vibrant atmosphere, and marvel at the iconic Dom Luís I Bridge that spans the Douro River.

Livraria Lello:

Immerse yourself in the enchanting world of books at Livraria Lello, one of the most beautiful bookstores globally. Admire the neo-Gothic architecture, intricate woodwork, and stunning stained glass windows as you peruse its vast collection. Step back in time and indulge in the charm of this literary treasure.

Porto Wine Cellars:

No visit to Porto is complete without experiencing the city's most famous export—port wine. Cross the river to Vila Nova de Gaia and explore the historic wine cellars. Take a guided tour to learn about the wine-making process, enjoy tastings of different varieties, and appreciate the rich flavors that have made Porto renowned worldwide.

São Bento Train Station:

Marvel at the exquisite beauty of São Bento Train Station. Adorned with magnificent blue and white azulejo tiles, this architectural gem tells the story of Portugal through its intricate designs. Take a moment to appreciate the craftsmanship and immerse yourself in the history surrounding you.

Clérigos Tower and Church:

Climb the iconic Clérigos Tower for panoramic views of Porto's enchanting skyline. The ascent may be challenging, but the reward is breathtaking. Afterward, visit the adjacent Clérigos Church, an impressive Baroque masterpiece that glimpses Porto's religious heritage.
Where to Stay:
For a memorable stay in Porto, consider these eSky accommodation options:
Luxury:

Indulge in the opulent surroundings of The Yeatman Hotel, offering luxurious amenities and breathtaking views of the city and the Douro River.

Mid-Range:

Experience stylish comfort at Porto A.S. 1829 Hotel, a boutique hotel in the Ribeira District that blends modern design with historic charm.

Budget:

Enjoy a friendly and budget-friendly atmosphere at Gallery Hostel, which is centrally located and perfect for meeting fellow travelers.
What to Eat:
Porto's culinary scene is a feast for the senses. eSky offers some don't miss gastronomic delights:
Francesinha:

Try Porto's iconic sandwich—a hearty combination of bread, ham, sausage, and steak, covered in melted cheese and smothered in a rich tomato-based sauce.

Bacalhau:

Sample Portugal's beloved salted codfish, prepared in various mouthwatering ways, such as bacalhau à Gomes de Sá or bacalhau à Brás.

Caldo Verde:

Warm your soul with a bowl of caldo verde, a traditional Portuguese kale soup infused with garlic and accompanied by slices of savory chorizo.

Port Wine:

Treat yourself to a tasting of Porto's world-famous port wine, available in various varieties from sweet to dry.
eSKy offer the most affordable rates for accommodation and travel to Porto.
Are you interested in learning more about Porto's tram system? Visit the Museu do Carro Eléctrico to view restored vintage horse trams, among other things. It is important to note that the museum admission ticket permits you to take one trip on the tourist tram.
Conclusion
A city break in Porto guarantees a thrilling and memorable experience. From exploring the historic Ribeira District to savoring delectable cuisine and indulging in port wine tastings, every moment in this enchanting city will captivate you. With its rich history, architectural wonders, and vibrant culture, Porto is a destination that will leave you with lasting memories. So, pack your bags, embark on an adventure, and immerse yourself in the excitement that awaits you in this beautiful Portuguese gem.